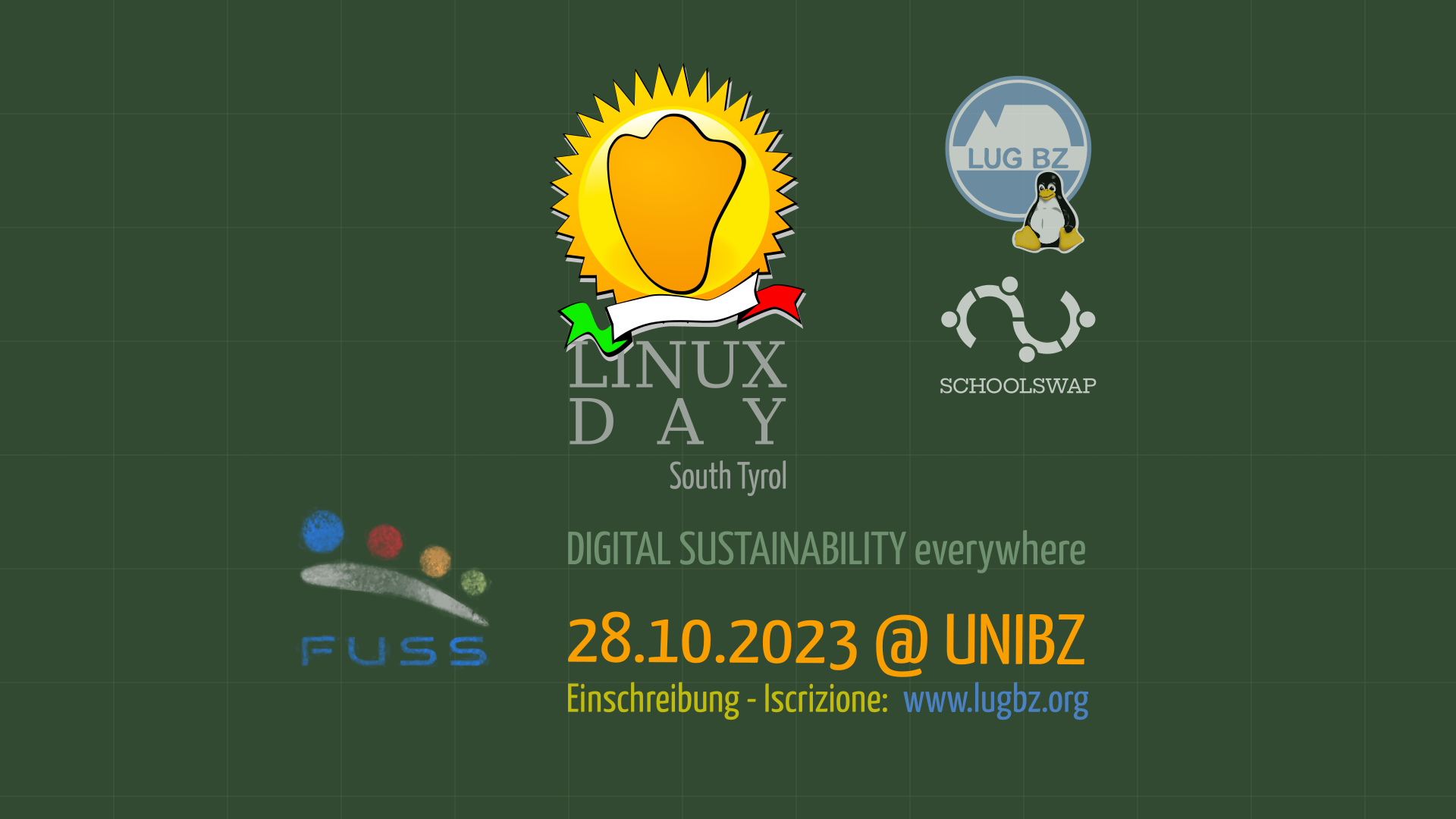 Saturday, October 28 starting at 8:45 a.m. the Linux Day 2023 - South Tyrol will be held at the Free University of Bozen/Bolzano (UNIBZ). It's an event that is celebrated nationwide in more than 42 cities with many live talks, parallel sessions and the chance to connect with enthusiasts, curious people, professionals and volunteers in every part of Italy!
The local organization is by the LUGBZ - Linux User Group Bozen-Bolzano-Bulsan and the FUSS Project with the kind support of the Faculty of Engineering of the Free University of Bozen-Bolzano, the Project ComeInClasse and Sticker Mule.
The theme chosen for this edition is DIGITAL SUSTAINABILITY everywhere. The Linux Day this year will be dense with content and with a number of speakers bordering on overbooking. The topics will be those of sustainability and digital sovereignty at school and at home, concepts that include Free Software, open and transparent hardware, and open educational content. The speakers, part in-person and part remote, are professionals in IT and education from our province, national and European territory. We will have representatives of associations such as DigitalCourage, Wikimedia Italia, Informatici Senza Frontiere, representatives of public bodies, companies and many others. There will also be a talk by the Centro Tutela Consumatori Utenti - Verbraucherzentrale Südtirol (CTCU-VZS) to give further impetus to the "Transparent Hardware" campaign, which started in 2007 from a synergy born between VZS and LUGBZ.
Registration is FREE at the following URL: https://fuss.bz.it/linuxday2023.
The Program and further information are available on the LUGBZ website: https://www.lugbz.org/events/linuxday2023/.